Join Hundreds, or even thousands, of people dancing together outdoors Hakafot Shniyot. Just throw into the mix of live music and ecstatic brotherhood the blessings recited over holy Torah scrolls. Take part in the magic among young and old– mothers wearing babies, young men linked arm in arm—just after Simchat Torah ends (this year on the evening of October 12th).
What is Hakafot Shniyot?
Every year, the Jewish High Holidays end off with Sukkot the Feast of Tabernacles, which is immediately followed up by Simchat Torah. This Holiday signifies the end of the annual cycle of Torah portions read on every Sabbath morning. This is also one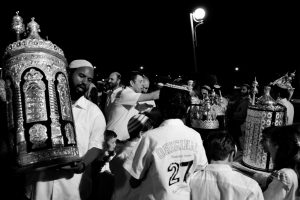 of the most joyous days on the Jewish calendar accompanied with fervent dancing as an expression for the deep love for the Torah.
Even as Simchat Torah ends, those in Israel keep the dancing and celebration going with the ceremonial Hakafot Shniyot. This translates literally as the second set of circling, the latter being an imagery rich with meaning in Jewish tradition; the main implication being that of a wedding. This is, so to speak, a day of marriage between the Jewish people and the Torah they strive to follow.
Hakafot Shniyot Only in Israel
The Hakafot Shniyot are a modern, Israeli phenomenon. In keeping with the conclusions of the Sages,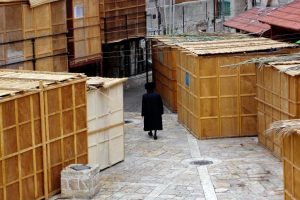 while there are a few holidays that are only meant to be one day, Jews outside of Israel must keep two days of strict observance, Simchat Torah being one of them. And so this event was fairly recently established in solidarity with the Jews in the Diaspora, who are only just beginning their own Simchat Torah celebrations. Throughout the country, often throughout each major city, communities take to parks and city squares to celebrate beneath the stars.
This is a wonderful sight for tourists visiting Israel.
Hakafot Shniyot events are usually accompanied by full on concerts, and are often free so that those still observing the stringencies of the second day of the Holiday can join in. Many would say that this is a joyful and moving expression of the Jewish unity, and love for Torah. These events are also an opportunity for the religious leaders and political figures to connect and celebrate with their local communities.
Hakafot Shniyot in Jerusalem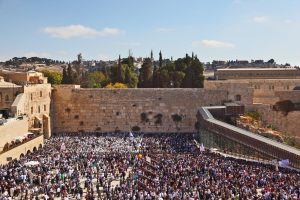 One such event that attracts thousands of people every year is the annual concert given by Aaron and Yonatan Razel at Kraft Stadium, in Gan Sacher Jerusalem. This does involve a cost, so tourists visiting Israel should certainly factor that into the logistics if observing the second day of the Holiday. To find a Hakafot Shniyot event closest to you, search on the municipality site of the city you will be in for Simchat Torah, and join in.
About Nes Mobile
NES mobile is an Israel phone mobile provider offering Israel phone, Israel SIM card and Israel Wi-Fi internet plans.