Rosh Hashanah is already behind us, and Yom Kippur is fast approaching. As Sukkot draws near, many tourists come to spend Sukkot in Israel. Pop-up sukkah sales are decorating busy street corners in many cities throughout Israel. The pace speeds up to double time, and for many tourists in Israel and locals alike, this rush is mesmerizing.
Sukkot in Israel
Truly, one of the most magical experiences in this magical time is the Birkat Kohanim at the Kotel. While here in Israel the Priestly Blessings take place daily (as opposed to outside of Israel, where they are only recited during certain Holidays), there is a nation-wide experience twice a year at the Kotel: on the first weekday of the festival of Passover on the festival of Sukkot.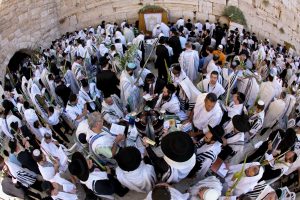 The blessings on Sukkot, which will take place this year on Sunday, October 8, are particularly
magical.
Imagine being surrounded by the tantalizing smell of the customary citrons, and the rustling of the palm leaves and myrtle branches. Among  the tens of thousands of others, congregated at the place where the ideas of self-identity, and relationships amongst people and between man and God, are forever in display.
Sukkot in Israel Birkat Kohanim – Priestly Blessings at the Kotel
According to the official Jerusalem travel site, morning prayers are scheduled to begin at 8:45, the first Birkat Kohanim Priestly Blessings at 9:30, then Mussaf prayers at 10:15, followed by the main event, the second set of Priestly Blessings at 10:30.
Note that since visitors are expected to come to the Kotel from across the country, and around the worl
d, it's best to arrive early to catch a spot closer to the actual Wall. And, as it is still quite warm during the day, visitors to Israel are encouraged to bring plenty of water and sun protection. If you are visiting with young children, be sure to have plenty of snacks ready for them, or stop by Mamilla afterwards for a cool treat.
Perhaps huge crowds are generally not your thing, but if you will be travelling to Israel this coming Sukkot, this is certainly an experience to be had at least once in a lifetime. Wishing you a year of Newness and Connection from the NES Mobile team!
Get Your UNLIMITED 4G LTE Israel SIM Card from Nes Mobile
Stay connected when you visit Israel during Sukkot. Order a 4G Israel SIM card  from Nes Mobile, and get free shipping in the USA for your Israel SIM and Pocket WiFi. Check out our Israel SIM Card Coupons and Discounts.