Client often ask us if they can pick up their Israeli SIM in Tel Aviv. While we always encourage our clients to take advantage of NES Mobile's FREE Israeli SIM Delivery in the USA, there are times when you have already arrived in Israel and need to get a local Israeli SIM Card.
NES Mobile Offers a Pickup Location for Israeli SIM in Tel Aviv
We strongly advise you to place an Israeli SIM order in advance of your arrival and choose Tel Aviv as the pickup location. If you do so, your NES Mobile Israeli SIM card will sim
ply be waiting for you in an envelope when you arrive in Tel Aviv to pick it up. All you need to do is simply state your name and identify yourself with a photo ID.
The NES Mobile Israeli SIM in Tel Aviv pickup location is at the E.L Phone store:
E.L.  Phone – located at 92 Ben Yehuda Street in Tel Aviv.
Store hours are:

Sun-Thursday 9:30-14:00 & 15:00-19:30
Friday – 10:00-14:30
The store is closed on Saturdays and Holidays

In order to guarantee the availability of an Israeli SIM card in the Tel Aviv location, please be sure to place your order in advance.
In addition to offering Israeli SIMs, the store also sells various cell phone accessories and offers cell phone repairs. Eli, the store owner is friendly and can offer his help and advice when it comes to your phone.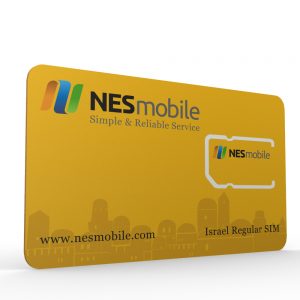 About NES Mobile
NES Mobile is a leading provider of Israeli SIM cards and cellular solutions for visitors to Israel.NES Mobile offers Israel SIM cards using 4G LTE Network in Israel for tourists, as well as Israel SIMs and Pocket Wi-Fi plans with unlimited data for students visiting Israel.
NES Mobile offers FREE deliveries across the USA & Israel. For more information please visit www.nesmobile.com