Your Connection: 4G LTE Cellular Network Coverage in Israel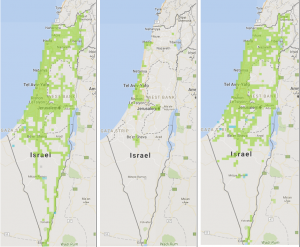 Visiting the Holy Land, your first priority might be to connect to ancient history and the vibrant cultures that you'll meet along the way. Nevertheless, our lifestyles require a certain amount of connectivity to our lives back home, and selecting the right cellular coverage can be pretty high on the list of your to-do list when preparing for your trip.
A question we get asked about most by tourists visiting Israel is what kind of cellular service they can expect during their stay– i.e. general connectivity, 4G LTE cellular network coverage and network speeds– and how those services may vary throughout the country.
Our answer is that Israel generally has great network coverage, but depending on what carrier is being used, that coverage may only work best in limited areas of the country.
We've seen that now, more than ever, the need for strong network coverage has become more and more widespread. No longer are visitors needing Internet connection just for work reasons, but there are strong private needs, as well. These needs often include connecting to home security cameras at all times, continual access to social media and skype, etc.
The Cellular Plan Showdown: MNOs vs. MVNOs
Israel has two basic kinds of cellular operators or carriers: MNOs and MVNOs. Simply put, the main difference between these two options is who owns the network. While MNOs (like Cellcom, for example) own the network, MVNO's (like Golan or Hot) do not. They "rent" bandwidth from an MNO. This, of course, directly impacts network availability and the QoS (Quality of Service) offered by the operator.
Take a look at the above Network Coverage Comparison Map we put together based on information from http://www.sensorly.com. You'll see clear differences between the coverage offered by an MNO versus an MVNO.
If you are thinking of using Golan or Hot – this map makes a pretty strong case against it. Golan and Hot may offer lower prices, but for a good reason, as discussed above. Even in comparison to Orange, Cellcom's network coverage is far better.
As well, the map above clearly shows that Cellcom gives more coverage when traveling in the South, like in Eilat and Be'er Sheva, than the leading competitors.
That's why we at NES Mobile sought out and secured a strategic, long-term agreement with Cellcom, the largest cellular carrier in the country. We chose Cellcom because this would allow us to offer our clients the best and most consistent access to network coverage throughout Israel. So come to Israel, connect to the Land, and rest assured that you can also work, stay virtually connected, and share your awesome experiences with loved ones back home, in real time.
Read More on other posts